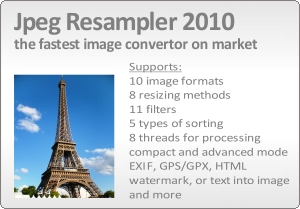 JPEG Resampler
In special cases you may find the older version of Jpeg Resampler more suitable, however I strongly recommend
Jpeg Resampler XE
- a brand new product that is much faster, fully compatible with new versions of Windows and contains a lot of improvements.
The following information relates to the old version of Jpeg Resampler
this simple application can resample all JPG images in the specified directory and store the results in target directory
a few possibilities how the target picture size may be defined (as a resultion, percent of original, maximal size, file size etc.)
it is also possible to set up the quality of target files, filters (sharpen, smooth, blur), sector of the image to process and others
application can also display metadata of your images
If you like JpegResampler, please donate!